2019 was a year of program expansion for Sustainable Saratoga. We partnered with local organizations to hold Saratoga's first Sustainability Fair, an interactive Children's STEM fair, start a community composting program, and bring environmental films to the big screen. We continue to offer our most popular programs, including Tree Toga, Saratoga Recycles Day and Repair Cafe.
We accomplished a lot this year with the help of our many supporters, community partners, dedicated staff, and financial donors. Below, we highlight some of our 2019 accomplishments.

Sustainable Saratoga has been working to expand our urban forest for many years, and in 2019 we initiated a campaign to plant the #NextGenTree and invest in our future. We increased the flexibility of our Tree Toga tree planting to allow for planting in front yards where the tree lawn cannot support a large growing shade tree. This year, we planted our 255th tree along the streets of Saratoga (read about it here). Everyone benefits from having a dense cover of trees throughout the city, particularly in the face of climate disruption, but it requires people to plant trees in their yards, along streets, and in other open spaces – everyone can be part of building the urban forest!
Urban forests play a significant role in moderating temperatures, reducing stormwater flows, improving air quality, reducing building energy use, and increasing property values. We continue to advocate for more tree planting by the City, and are pleased to be working with the City Arborists on securing funding for the completion of a tree inventory and management plan. We continue to be a resource for other local communities that are working to grow their urban forests.
People everywhere are becoming more conscious of how much waste we produce, and we provide resources and opportunities for people to reduce their waste. From events like Saratoga Recycles Day and Repair Cafe, to providing resources like workshops and our Household Reuse, Repair, Recycling guide, Sustainable Saratoga is helping people make more sustainable choices.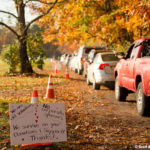 Our third Saratoga Recycles Day was hugely successful. Almost 500 vehicles came to recycle over 13.5 tons of electronics and donate several tons of clothing & textiles, 55 sleeping bags, 67 bikes, and carloads of notions to local non-profits working with people in need. This year, we worked with American Clothing, Shelters of Saratoga, B.E.S.T., Bikeatoga, the Saratoga Springs Lions Club and Her Treasure Box. In addition to helping others, diverting these items from the waste stream reduces our overall demand for landfill space and the amount of toxins being dumped in landfills.
Co-sponsored with Saratoga Springs Public Library, we continued our popular Repair Café events in Saratoga Springs. Since we started in 2018, our talented volunteer repair coaches have helped people to repair over 250 items, including jewelry, sweaters, lamps, bicycles, purses, and so much more! By extending the life of broken items, we are keeping these things out of the landfill and decreasing the environmentally costly production of new consumer products.
Food waste is an easy way to reduce our impact on the environment. Decomposing food waste produces methane in landfills, so reducing the amount of food we throw away is a great way for individuals to reduce their carbon footprint. Composting is something that everyone can do. This year, we trained 125 people through our Backyard Composting Workshops, including a family-focused workshop at Pitney Meadows Community Farm. New this fall, in collaboration with Pitney Meadows Community Farm, we began offering community composting – people can now drop off their food scraps at Pitney Meadows (click here for more details).
Our Climate and Energy committee led the planning effort for the first Sustainability Fair in Saratoga Springs, in collaboration with Skidmore College. The goal of the sustainability fair was to support sustainability by connecting people to resources and organizations that contribute to making our community more sustainable. The fair, which included 36 exhibitors, 19 workshops, an EV car show, and an inspirational keynote address by Aaron Mair, attracted over 300 people.
Throughout 2019, we partnered with local organizations like the League of Women Voters, Northshire Bookstore, and the Saratoga Springs Public Library to discuss the challenges of climate change and provide concrete actions we can all do to reduce our impact on the environment.
In conjunction with the Saratoga Film Forum, we started an environmental film series that includes discussion panels that draw on the abundance of local knowledge. The first film, Biggest Little Farm, sold out all four nights, and we look forward to showing more films in 2020.
Our Housing and Urban Planning committee got a new name this year, to better reflect the broadness of our sustainability efforts in the City.
We took a strong stance on the Flat Rock Centre parking garage. While we were not opposed to the City Center building a parking garage to accommodate its needs, we consistently advocated that the design should comply with the City's established planning and urban design guidelines.
We have long advocated for the City Council to initiate a managed parking system for the downtown. The City needs a comprehensive parking system that addresses sustainability issues while also meeting the needs of businesses, residents and visitors alike. In 2015, we held a two-night downtown parking forum, which is still relevant today (click here to view these presentations). We are advocating that the City's current efforts focus on achieving those goals.
We consistently advocate for making sustainable decisions that plan for our future. We continue to monitor and provide feedback on City initiatives like the Unified Development Ordinance and the Natural Resources Inventory. While we may mostly be remembered for our stances on policies that we disagree with, we also partner with and support many of the City's efforts.
We support initiatives that improve the safety and accessibility of a cleaner, greener transportation system. We want to encourage residents and visitors to reach their destination on foot or bike, so we supported the City's efforts such as the Missing Links grant proposal, the Downtown Connector section of the Greenbelt Trail, installation of bike lanes on Lake Avenue, and the Henry Street bike lane pilot project. More bike lanes and improved pedestrian infrastructure would help reduce traffic congestion, parking demand and auto-related air pollution.
The Saratoga Lake watershed contains some of the fastest growing areas in Saratoga County, and the increasing development pressures have raised concerns about protecting the lake's resilience and integrity. We believe there should be a coordinated approach to reducing threats to water quality within the Saratoga Lake watershed. You can read our full statement here.
LOOKING FORWARD TO 2020: Look for even more programming, and the return of your favorites, in 2020.