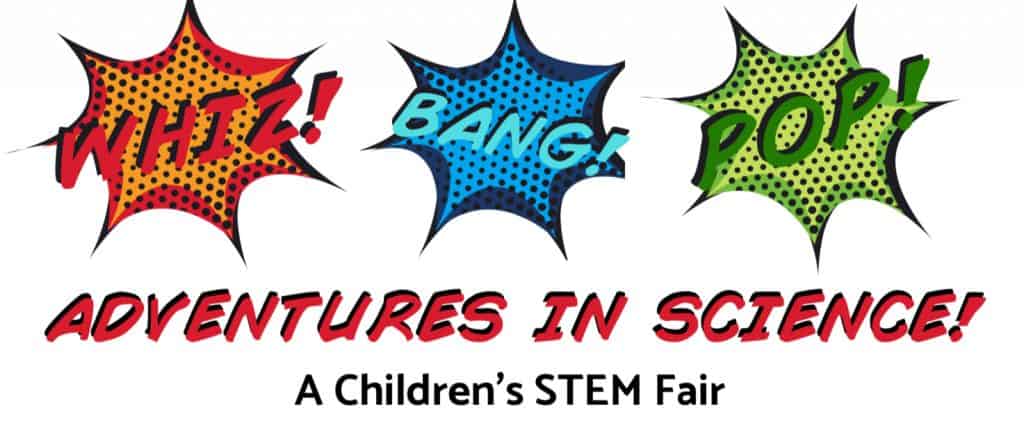 The Children's STEM fair, co-sponsored by the Saratoga Springs Public Library, Sustainable Saratoga, and the Children's Museum at Saratoga, attracted more than 300 people on July 17, 2019. Children of all ages explored a diverse assemblage of scientific disciplines.
Twenty different organizations participated in the event, offering interactive STEM activities to stimulate kids' interest in science. Activities exposed kids to the natural sciences, engineering, and physics in a creative, hands-on way. Kids studied animal tracks, learned about how worms turn food waste into nutrient-rich worm castings, and explored the physics of water flow through a watershed. Several activities involved engineering solutions to solve problems in physics. A popular station was the ice cream table, where kids used super-cold salt water to make, and then eat, their own ice cream.
"It was great to see so many kids engaged in this kind of active learning" says Mary Cobb, a volunteer and grandparent of a child who stayed the entire time of the event. "As a retired preschool teacher, I know the educational value of hands-on experiences and this event delivered an abundance of these opportunities."
Making ice cream is fun; eating that ice cream is awesome!
Worms!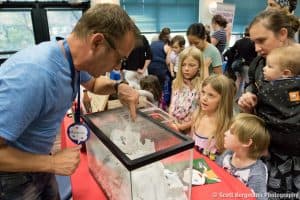 Something actually eats styrofoam!
Lots of opportunities to learn about an important natural resource – water.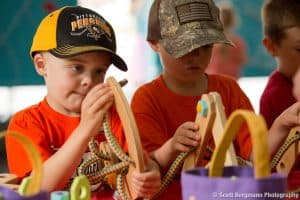 Two young engineers at work.
Several volunteers noted how interesting it was to observe children independently solving problems in such a variety of ways, and many of the participating organizations and parents encouraged us to hold another event next year. One parent commented, "I was so impressed by the activities, organizations, and number of volunteers at both the library and Children's Museum. My kids had a great time!" Margie Shepard, co-chair of Sustainable Saratoga's Zero Waste Committee and one of the organizers of the event, reflected on the day: "It was rewarding to watch so many kids, from toddlers on up, engage with science in an interactive, fun way. Wouldn't it be wonderful if we inspired a future inventor or scientist?"
Water, water, everywhere!
As with any event of this size, there are many people who helped make this day a success. This fair was made possible, in part, by a Lend-A-Hand Grant from the Adirondack Trust Company Community Fund. Thank you to the Library operations staff, the Library teen volunteers, and to Hal Bigelow for all of his creativity and talent in creating the water walls.  We are sincerely grateful to Scott Bergmann, for volunteering his time and skills to capture the event in beautiful photographs. And finally, thank you to the Steering Committee, with representatives from all three co-sponsoring organizations, for your dedication to making this a fun, inclusive event for all ages.