This past Saturday, the clouds parted just in time for Sustainable Saratoga's ninth Tree Toga planting event. Scores of new and returning volunteers arrived at High Rock Park to join another Tree Toga effort to protect and expand the urban forest in Saratoga Springs. After an enthusiastic rendition of the tree planting song and a brief orientation, teams of eager tree planters dispersed across the City to plant the next generation of trees that will benefit our community for decades to come.
The hard work of many, many people made Sustainable Saratoga's ninth Tree Toga another success. We are so grateful to our tree-loving community for your inspiring interest and support.  We couldn't do it without tree hosts, tree planters, event staff, tree waterers, Sustainable Saratoga's core tree team and staff, DPW, and generous funders. THANK YOU ALL!  In addition to the volunteers, we also want to thank Allerdice, Harvey's Restaurant and Bar, The Bread Basket Bakery, Starbucks, and Belmonte & Son Tents and Events. Thank you to Scott Bergmann for taking some fantastic photos of this event.
Russ Pittenger leading the team in singing the tree planting song
Commissioner Skip Scirocco addresses the planting crew
The trees we plant today are a legacy we leave for the future, so we were delighted to see so many children helping with the planting. Our young planters will grow and mature alongside the trees they put in the ground.  The Tree Toga effort plants large-growing trees, the kind historically found throughout Saratoga, for the next generation to enjoy. But more than a tribute to history, trees are a critical component of the City's infrastructure that essentially pay for themselves: they improve air quality, increase property values, reduce water pollution, support wildlife, enhance people's quality of life, and provide an aesthetically pleasing homage to Saratoga's vibrant history.
Help us spread the work about the importance of protecting and expanding the urban forest. More than ever, we need YOUR yard for a tree. Click here to learn more about options for getting a tree in your yard.
And thank you to our partners in City Hall, especially the Department of Public Works. Tree Toga is the product of an ongoing partnership between Sustainable Saratoga and the City's Department of Public Works (DPW). DPW deserves a special thanks for their long-standing partnership, including providing the funding for half of the trees, the compost, and cleanup of the planting sites.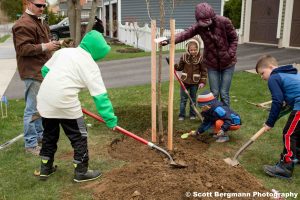 We love seeing the kids planting the trees.
Tree planting is a great family activity.
Here is our Urban Forestry Project committee (left to right): Alexandra Morgan, John McMahon, Dena Contompasis, Tom Denny, Rick Fenton, and Lin Whittle. They, along with our staff, Wendy Mahaney and Candice Bergmann, spend months preparing for each Tree Toga event.
Here is a map of the locations of the 30 trees we just planted, which stretches across the city. Take a walk and check out the new trees in your area. And if you notice new street trees being planted, take a photo and tag us on Facebook or Instagram (@sustainablesaratoga) or use the hashtag #NextGenTree.
Click on the link to learn more about Sustainable Saratoga's Urban Forestry Project or email trees@sustainablesaratoga.org