We are launching a #NextGenTree marketing campaign to encourage homeowners to leave a legacy of trees for the next generations of Saratogians. The goal of Tree Toga is to replant the urban forest and homeowners hold the key to success – but we need residential property owners to offer their yards as planting sites for this spring's Tree Toga effort. We have adopted new, flexible planting policies that will make it easier for homeowners to volunteer their yards.  We will now consider planting a tree anywhere in your front yard, and no longer be limited to the tree lawn between the sidewalk and the curb. "Overhead power lines or narrow tree lawn?  No problem!" is the message we want the public to hear.  This looser criteria should leave fewer disappointed homeowners and boost the impact of the #NextGenTree campaign.
During this spring's lead-up to Tree Toga 9 on April 27, look for some playful "Saratoga Needs YOU" marketing graphics that emphasize the need for residents to request trees for their property.  The graphics will be entertaining, yet will send Saratogians the serious message that, unless Saratoga homeowners request trees, our kids and grandkids will not enjoy the benefits of a robust urban forest.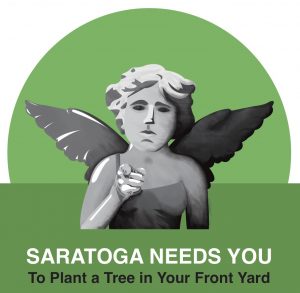 We will be working with our long-time partners at the City's Department of Public Works to identify more tree-planting sites.  Tom Denny, Chair of our Urban Forestry Project, acknowledges that "finding good planting sites has always been the most time consuming and challenging part of Tree Toga. We hope that the combination of greater flexibility and our new marketing effort will increase demand for trees. Being pushed by homeowners to build capacity for planting would be a great problem to have."
To request a free, large-growing tree for YOUR yard this spring, or to volunteer for Tree Toga 9 on April 27, click here to fill out the on-line form.  Send questions to trees@sustainablesaratoga.org.