At Sustainable Saratoga's 8th Tree Toga event on April 28th, over 125 of our wonderful tree-loving volunteers gathered to add 25 more trees to our urban forest. After assembling at High Rock Park for orientation, teams of eager tree planters dispersed across the City to plant the young trees on public and private land. The clouds parted just long enough to give us a beautiful planting morning, and then the rains came to do the watering for us. Tree Toga 8 brings the grand total number of trees planted by Sustainable Saratoga to 225. These trees will transform and enhance the City's streetscapes for decades to come.
Tree Toga is the product of an ongoing partnership between non-profit Sustainable Saratoga and the City's Department of Public Works (DPW). A hearty thanks to DPW for providing 20 of the trees from its annual taxpayer-funded tree planting budget, and for providing compost and cleaning up debris at each of the planting sites. The remaining five trees were funded by donor contributions to Sustainable Saratoga.
"We want to thank all our partners who work with us to make Saratoga Springs a greener, healthier, and more beautiful place to live and visit," said Tom Denny, Chair of Sustainable Saratoga's Urban Forestry Project. "The success of Tree Toga is only possible through the generosity and hard work of our many volunteers and donors, who are the backbone of Tree Toga." Tree hosts, tree planters, event staff, tree waterers, Sustainable Saratoga's core tree team and staff, DPW, people who recruit tree hosts, and generous funders all play key roles.
We greatly appreciate the businesses and professionals who donated their time and materials to make this event a success: Allerdice, Hudson Coffee Traders, Harvey's, The Bread Basket Bakery, and Belmonte & Son Tents and Events. Thank you also to Tim Greer of Camera Famosa Photography for taking such wonderful photos, including those in this post. You can see a gallery of photos from the event here.
Sustainable Saratoga is grateful to the entire tree-loving community for your interest and support. It is always inspiring to see a horde of eager volunteers show up at a Tree Toga we look forward to seeing all of you at our next planting! Keep your eye out for places around town that need trees! Contact the Urban Forestry Project any time at trees@sustainablesaratoga.org to volunteer, to be a future tree host, or to share your tree questions with us.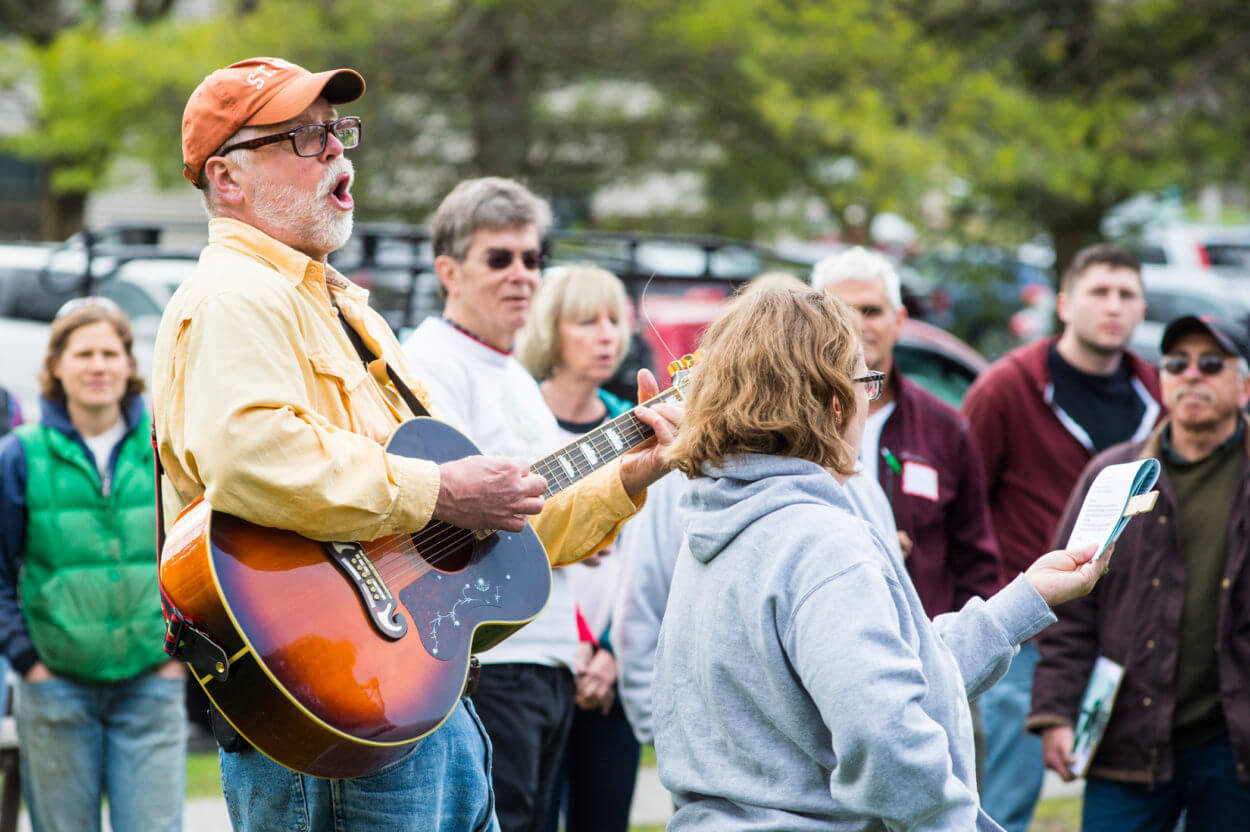 Russ Pittenger leading the group in the "Plantin' Crew" song before setting out to plant.

Kids learn how to plant the tree at the right depth so the tree can thrive.
A Centennial Tree goes in at a grand Victorian house on Circular St.