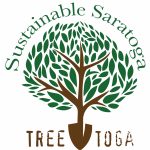 TREE TOGA is April 29, 2023
YOU can help us plant the next generation of majestic trees in Saratoga
Sign up now for TREE TOGA

!
Tree Toga 12 will be held on April 29, 2023. We kick off with a gathering and tree-planting training session at Pitney Meadows Community Farm. After that, teams of planters will be dispersed to approximately 38 planting locations throughout the city of Saratoga Springs. 
SIGN UP TO BE A TREE PLANTER using the link below. We'll send you all the details in early April.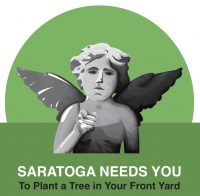 TREE HOSTS: Our 2023 Tree Toga planting list is full, and we're now looking for tree hosts for Spring 2024. Anyone who lives in Saratoga Springs can request a Tree Toga Tree. If we identify a good spot for a large growing shade tree in your front yard, our volunteers will plant a tree in Spring of 2024.  All you need to do is water it throughout its first few critical years and watch it grow and provide shade and many other benefits for years to come. 

Want a tree for your front yard? Our planting list is full for Tree Toga 2023, but you can click on the TREE HOST link below to request a tree to be planted during Tree Toga 13 in Spring of 2024.
Love trees, but don't have a front yard? Sign up to be a TREE CAREGIVER, to water and care for a young tree throughout the year.
Want to be part of the Tree Toga planting crew in Spring of 2023? Sign up to be a TREE PLANTER.
Click on the links below to sign up. Note: you may need to rotate your mobile screen to landscape to fill out the form.
Help us find tree planting locations in Saratoga Springs 
Encourage friends and neighbors to request a tree. Start a friendly competition with another block or neighborhood. Make it a service activity for your organization or company.