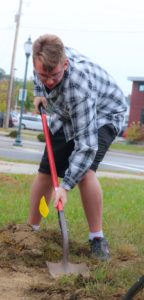 Over 100 volunteers showed up for Tree Toga 7 last Saturday to plant 26 new trees in widely scattered locations around town. Sustainable Saratoga sends a huge thank you to all who pitched in to make it work, including our tree hosts, planters, event staff, waterers, photographers, data managers, Urban Forestry Project core team, people who recruited tree hosts, and generous donors. Together, we really CRUSHED IT!
With this effort, just four years into Sustainable Saratoga's tree plantings, we put our 200th tree in the ground. These trees will transform and enhance the City's streetscapes for decades to come.
Check out our Facebook page for photos from the event.  We hope to see you at Tree Toga 8 on Saturday, April 28th!
Sustainable Saratoga's Urban Forestry Project Team