Sustainable Saratoga's second Saratoga Recycles Day was a huge success. The demand for TV recycling is huge in our community – we collected 660 TVs and monitors and these items will be responsibly recycled and not end up in a landfill. Between the TVs and other electronics, over 26 tons of materials were taken to JGS Recycling & Hauling in Waterford. While electronics was definitely the most popular category, we also collected almost 4 tons of textiles and clothing this year. Saratoga really does RECYCLE!
We owe a huge THANK YOU to our volunteers. We could not provide these types of programs without this mighty band of volunteers. From the months of planning and organizing by the Zero Waste Committee, to the volunteers that work during the event, we rely on our supporters to give their time to us, and to our community as a whole, to make Saratoga more sustainable.
We also want to thank Tim Greer, Camera Famosa Photography for capturing the day in his amazing photos. Thank you to the New York State Parks and SPAC for allowing us to have this event at their facility. The park police officer Pete Caruso, who helped us reroute traffic to deal with the high demand for this event was amazing! Thank you to the City of Saratoga Springs for loaning us their orange traffic cones – we sure needed those with all the traffic! Thank you all!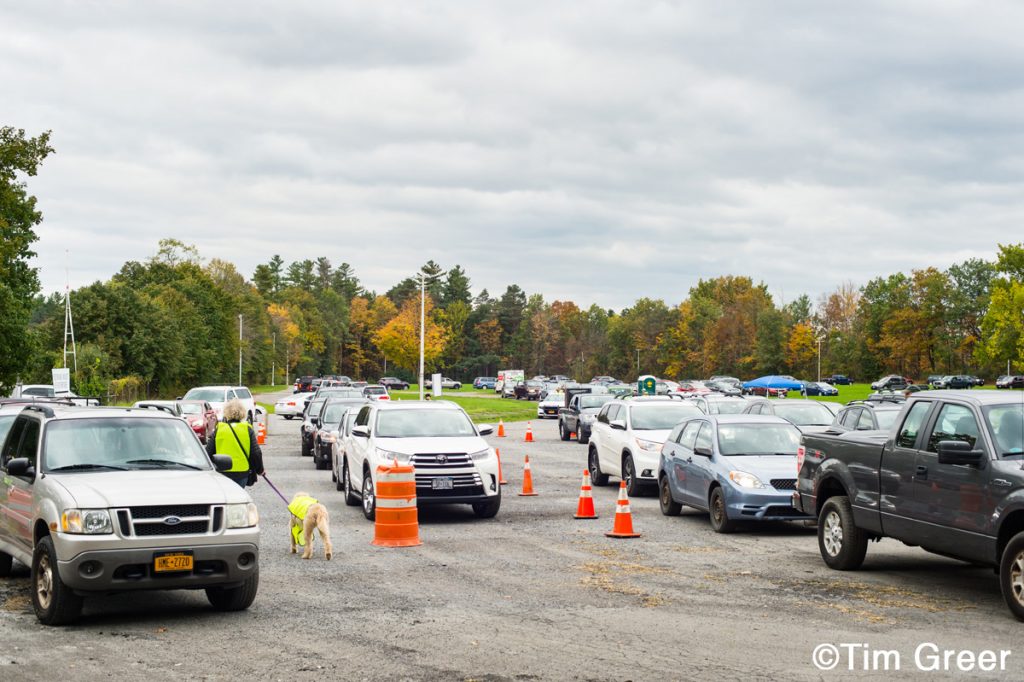 Around 800 vehicles came through the gates of SPAC to drop off items. The addition of TVs and monitors was a big draw. It is expensive to recycle these items, so few places accept them and all charge a fee. Sustainable Saratoga collected $20 per TV or monitor to offset the costs we incurred for providing this service.
Given the heavy demand for electronics recycling, the lines were long to drop off items. Despite the wait, people were grateful for the opportunity to drop off items in one place and feel confident that their donations would be responsibly reused, repurposed or recycled. You can click to read coverage of the event in The Saratogian.
Another focus of the event is to help other local non-profit organizations collect items that they can reuse or repurpose for a good cause. This year, we worked with American Clothing, Prospect Center, Shelters of Saratoga, B.E.S.T., Bikeatoga, and Sandy Clauser, who organized the notion distribution for several local non-profits.
The Prospect Center received several truckloads of donated clothing and textiles from American Clothing. The four carloads of donated fabric and other notions will be put to good use. Some fabric will be used to make quilts that will be donated to Quilts for Kids and Quilts of Valor, and other materials will be used to make or stuff dog beds that will be donated to Adirondack Save a Stray.
Shelters of Saratoga collected 34 sleeping bags and 87 backpacks and duffle bags that will be used to help many people this coming winter. Many blankets, men's jeans and hoodies, and 21 adult bikes were donated to B.E.S.T. to benefit the backstretch workers at the Saratoga Racetrack.
We collected 108 bikes total, and 35 of those bikes filled up Bikeatoga's workshop and will keep them busy refurbishing bikes for quite a while!
All of this is due to the generosity of our community, so thank you! We are already discussing ways to improve traffic flow for next year's event and potentially include collection stations for more non-profits.