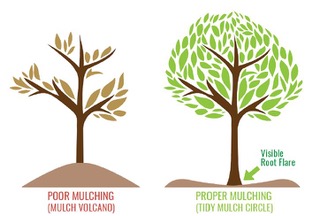 Sustainable Saratoga is working to educate landscaping professionals and the public about the deadly practice of heaping mulch around the base of trees, creating "mulch volcanoes." Check out Sustainable Saratoga's flyer, "Mulch Volcanoes Kill." Trees are a major investment in Saratoga's infrastructure that will "pay us back" if we let them survive and thrive. Let's stop killing them with bad mulching.
"This Old House," the popular PBS TV show, produced a scary video segment in which they dug up a mulch volcano to explore the damage.
Tidy mulching is great, but tidy doesn't have to kill. Make a crisp circle of mulch around the tree, but keep the mulch 3 inches from the trunk.
Don't take Sustainable Saratoga's word for it. Tree experts from Cornell, from across New York State, and from around the country have condemned "mulch volcanoes" as extremely harmful to the health of trees.
YOU CAN HELP. HELP SPREAD THE WORD. Share this information widely. Share it with friends and neighbors. With your landlord. With fellow condo owners. With businesses you patronize. With anyone who has responsibility for maintaining commercial properties where "mulch volcanoes" are killing trees.
Please send questions, comments, or photos to trees@sustainablesaratoga.org