Sustainable Saratoga is pleased to announce that we have hired Kelsey Trudell to be our new Executive Director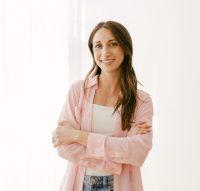 Kelsey is a South Glens Falls native who moved back to this area after spending several years in Phoenix, Arizona. In Phoenix she worked for the Arizona Sustainability Alliance, an organization with many similarities to Sustainable Saratoga. Kelsey has a BS in Environmental Science and Geology from SUNY Oneonta and a post graduate credential in Environmental Leadership from SUNY College of Environmental Science and Forestry.
Although she is passionate about all aspects of sustainability, Kelsey is particularly interested in land use planning and climate policy, and she has experience in urban forestry, pollinator conservation and public education.
We look forward to working with Kelsey and introducing her to our community.