Were your heating costs high this winter? Does Earth Day have you thinking about ways to reduce your energy consumption?
Sustainable Saratoga is offering a Residential Energy Efficiency workshop on Tuesday, May 15th from 6 – 7:30 pm at the Saratoga Springs Public Library, in the H Dutcher Community Room. The workshop is free and open to all area residents.
The presentation will walk you through the New York State Energy Research and Development Authority (NYSERDA) Home Performance with Energy Star® program. During the workshop, you will learn about:
Applying for a free, or reduced-cost, home energy assessment and receiving a comprehensive report with energy savings recommendations.

Most New Yorkers qualify for the free assessment and are under no obligation to install the recommended home energy improvements.

Incentives and financing options for middle and low income families and no-cost services for low income households.
The presentation will be followed by plenty of time for questions and answers.
Presenter, Kathleen Langton, is from the AHP Homeownership, a non-profit housing organization. AHP is a NYSERDA contractor doing outreach and providing assistance to homeowners participating in the program. NYSERDA is a public benefit corporation, offering objective information and analysis, innovative programs, technical expertise, and funding to help New Yorkers increase energy efficiency, save money, use renewable energy, and reduce their reliance on fossil fuels.
Have questions? Email info@sustainablesaratoga.org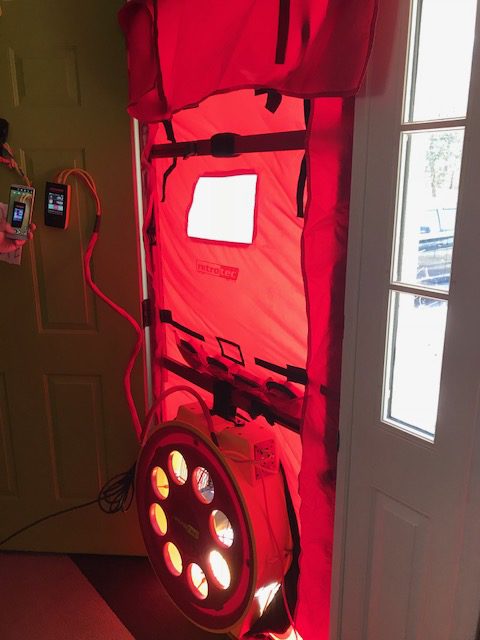 Blower door test
Infrared picture of a leaky area of a house