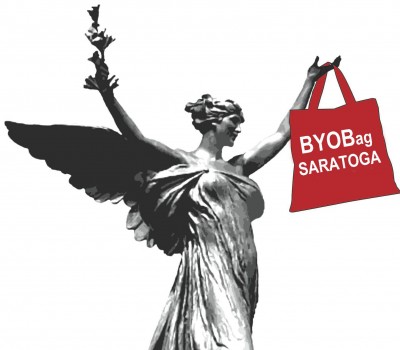 Saratoga Springs, NY – Sustainable Saratoga has been awarded $5,000 by the Alfred Z. Solomon Charitable Trust in support of its Bring Your Own Bag (BYOBag) project. The Charitable Trust supports causes affecting the lives and culture of the Saratoga Springs community.
The grant money will be used to buy and print attractive, lightweight, reusable canvas shopping bags. The bag will include recognition for the Alfred Z. Solomon Charitable Trust. Plans for distribution of the bags are in development.
"We are grateful to the Alfred Z. Solomon Charitable Trust for recognizing and supporting our project," said BYOBag spokesperson Margie Shepard. "Plastic breaks down into tiny pieces that can last for a thousand years. The toxins work their way into our food chain and threaten human health. Taking this step toward the elimination of single-use plastic bags would make a significant dent in the amount of plastic released daily into our environment."
For the past two years, BYOBag has worked to educate the Saratoga Springs community about the harmful impact of plastic on the environment and human health. The project encourages the use of reusable cloth shopping bags and elimination of single-use, thin plastic film shopping bags.
Hundreds of U.S. towns and cities have enacted restrictions to decrease the use of disposable plastic bags, and BYOBag wants to add Saratoga Springs to the growing list. Billions of disposable bags are used and thrown out annually in the U.S. It is estimated that Saratoga Springs residents use 10 million plastic bags each year. By substituting reusable bags for disposable plastic bags, people can make a profound impact on our local environment.
About Bring Your Own Bag Saratoga
Bring Your Own Bag Saratoga is an initiative to change retailer and consumer dependence on single-use, thin film plastic shopping bags in Saratoga Springs. BYOBag is a project of Sustainable Saratoga, a not-for-profit organization that promotes sustainable practices and the protection of natural resources in Saratoga through education, advocacy and action. To learn more about BYOBag Saratoga or to help support the cause, please click here.
About Alfred Z. Solomon Charitable Trust
The Alfred Z. Solomon Charitable Trust was established to benefit nonprofit scientific, medical, educational, cultural, religious, and charitable organizations by funding projects and programs in memory of the Trust's founder, Alfred Z. Solomon. Mr. Solomon, a leader in the fashion industry, a horse racing enthusiast, and a philanthropist in Gansevoort, NY, and New York City, died Sept. 4, 2004, at the age of 104, and founded this Trust in his Last Will and Testament.
CONTACT: Margie Shepard, Co-chair, BYOBag
mshepard.shepard@gmail.com
518-879-0441