On Thursday, June 17, 2021, Sustainable Saratoga planted three large trees at SPAC, between the Hall of Springs and the Roosevelt Baths.
The trees were funded primarily by a generous donation from BCA Architects & Engineers, with additional funding coming from Sustainable Saratoga's donors to their tree fund. The BCA Architects & Engineers funding was part of their 50th-anniversary celebrations in 2020, but the planting was postponed due to the pandemic.
The new sugar maple, white oak and tulip tree are all large-growing shade trees that will bring people and pets relief from the sun for decades to come.
This continues a tree-planting partnership between SPAC and Sustainable Saratoga. In 2018, Sustainable Saratoga and volunteers from Saratoga Eagle planted five trees around the Charles Wood gazebo; those trees were funded by Saratoga Eagle.
You can help by planting a tree where you live. Click here to learn more about how to select the right kind of tree, how to properly plant your tree, and how to care for the tree so that you can enjoy the many benefits of trees!
Have questions? Email us at trees@sustainablesaratoga.org.
Sustainable Saratoga volunteers digging in unison to plant this white oak tree at SPAC.
The littlest team member took care of the watering.
Admiring a job well done.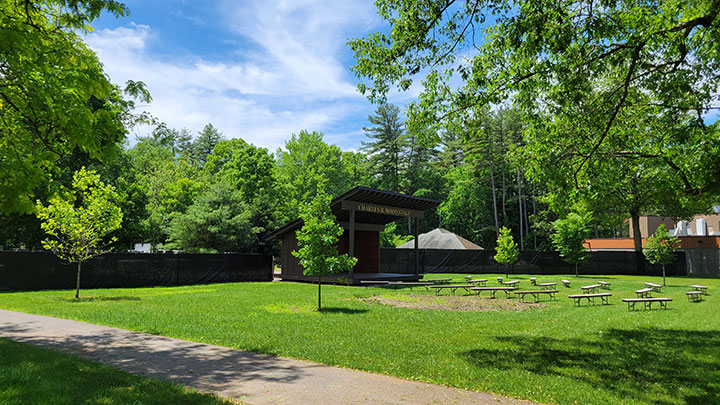 The five trees planted around the Charles Wood gazebo in 2018 are thriving.