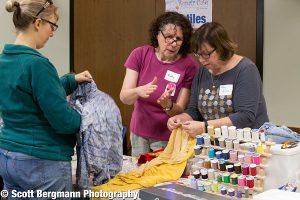 Repair Cafés are catching on in Saratoga Springs! Sustainable Saratoga and the Saratoga Springs Public Library hosted their second Repair Café on Saturday, September 29, 2018. Over 100 items were brought in for repair, including lots of lamps, wooden chairs, necklaces and bracelets, bikes, jeans, a paper shredder, an umbrella, and a vacuum. Knife and scissor sharpening was also a popular station. Especially cute was the influx of precious stuffed animals that were repaired to the joy of some of our younger attendees.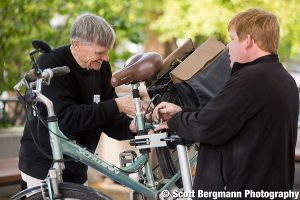 One of the main goals of Repair Café is to get people to think about repairing an item before thinking about replacing it. The Repair Café concept arose in the Netherlands in 2009 and has expanded to over 1600 Repair Cafés around the world. Martine Postma started the Repair Café Foundation to provide support to groups that want to start their own Repair Café. According to Margie Shepard, Chair of Sustainable Saratoga's Zero Waste Committee, "In just one afternoon, we were able to keep over 70 items out of the landfill; these volunteers are making a tangible difference in our community."
Wendy Mahaney, Manager of Sustainable Saratoga, stated that "this event more than doubled in size from the first one, and the overwhelming sentiment of the patrons is thankfulness that these skilled Repair Coaches are donating their time." One woman had several garments repaired and described it as "fixed with professional care." Another patron commented "This event is wonderful! I wish I had the skills to offer for fixing other's things. Thanks for hosting this event!"
"The Repair Café exemplifies the library's values of supporting independent learners, being a responsible steward of resources, and to be of service to one another and to every member of our community," affirms Jennifer Ferriss, the Saratoga Springs Public Library Green Team Coordinator.
The Repair Coaches can be seen teaching people how to do their own repairs and sometimes coaches team up to find the best strategy for a particular item to be repaired. One woman was inspired by her necklace repair, "A wonderful program. Looking forward to the next one, and in the meantime, I'm inspired to head home and attempt repair on my similar items!"
The next Repair Café will be February 9, 2019 from 12-3 PM. If you like fixing things, Sustainable Saratoga and the SSPL are always looking for additional volunteer repair coaches. This is a fun way to meet new people, make a difference in someone's life, and help the planet all at the same time. If you would like to learn more about becoming a volunteer repair coach, email wendy@sustainablesaratoga.org